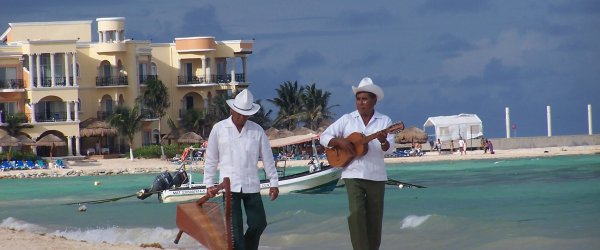 Are you dreaming of spending time out in the sun getting a natural tan and having the best time of your life? Pack your best swim wear and read on to discover the best vacation spots in the world where you can just soak in the sun and enjoy breathe- taking views to create memories that you will never forget.
Dominican Republic, Caribbean
The Dominican Republic delights all its visitors with a great mix of "gingerbread" Victorian architecture and white sandy beaches. It extends about 900 miles of Caribbean coastline that make the island country a small paradise especially for people who like spending time at the beach. You can taje a day trip to see what Puerto Plata has to offer and enjoy a thrilling ride on a cable car that will take you up to Mount Isabel de Torres. The country also offers an exciting nightlife. Sparkling waters and breezy palms of Punta Cana ensure you enjoy the ultimate tropical experience.
Playa del Carmen, Mexico
This is considered to be one of the top dive destinations in the globe featuring dazzling underwater caverns and sea life that is quite vibrant. If you do not want to spend time out in the water, the dry lands do not disappoint as they are a more modern and hipper version of the fishing village it was before. Visit the Jungle Place sanctuary and say hello to the animals or spend some time playing golf. There is also the option of exploring ancient ruins or just stroll around to see all that is on offer.
Hawaii United States
There is simply no end to the fun activities as well as attraction sights you get to enjoy once you land in Hawaii. From the absolutely gorgeous white sandy beaches to extremely beautiful nature, you will feel as though you stepped into paradise. The place also hosts various festivals where you get to learn about the culture, interact with locals and tourists and generally have a good time.
Mombasa Kenya
Located in the cradle land of mankind (Africa) this is another destination that you will absolutely love when looking for a sunny vacation. The country is blessed with beautiful and radiant sunshine all through the year meaning you can pack anytime you want to have a good time there. There are numerous beaches that you can visit as well as a variety of attraction sights such as the Fort Jesus where you get to learn a lot about the history of the place and the culture of the people. The people here are very friendly thus you should not shy away from asking for any kind of help.
Phuket, Thailand
This is one of the most popular islands and one of the reasons why it is so popular is the coastline that is divided into great bays forming intimate beaches. You can get soothing massages on the beach and go scuba diving in spectacular sites. Locals here are also friendly and will always greet you with a smile.