Welcome to Vietnam – the Southern Asian country bordering China, Cambodia and Laos. Forget what they show you in movies. This is a destination you should be saving money for.
Holidays in Vietnam will expose you to a lot of adventure, diversity and history - all in one trip. Incredible, isn't it?
Geographically, Vietnam is almost the size of Germany. For most part, it is mountainous, hilly and densely forested. In a nutshell, you have a lot to explore and experience here.
Are there any interesting activities to engage in?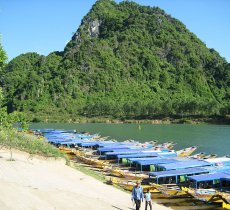 Have you just got married or are you planning to get married soon? Vietnam offers some of the most globally competitive deals on honeymoon getaways and luxury holidays. You can let some steam off from a busy working schedule with a trip to Vietnam and feel rejuvenated after the vacation.
Vietnam is also paradise for the cycling enthusiast. Riding on bicycles is very popular among the locals and you ride around feeling the wind in your face in towns like Hanoi.
Imagine yourself on a cruise feeling the marine climate while enjoying one of the most fascinating cliff scenery in the world. You can get all these on the serene, world-famous Halong Bay.
Fans of islands and amazing coastlines can marvel at the fine sandy beaches of Vietnam. The Mekong Delta is also home to the floating markets that you can never see anywhere else in the world.
The bustling capital city of Vietnam, Ho Chi Minh, has a thriving urban culture that offers any tourist a wide selection of traditions, monuments, cuisine and culture to leave them brimming with excitement.
You can also keep yourself sufficiently occupied with trekking and hiking activities for fun, team building or general adventure.
What sites can tourists visit?
Investment by the government and the private sector has led to the growth and development of Vietnam as a popular tourist destination.

Some of the destinations that may be of interest for tourists include:


The Nha Trang Delta. This is one of the most popular seaside resorts. You will marvel at the fine sand, clear sea water and beautiful beaches.

The Cu Chi Tunnels. This extensive network of underground tunnels is the ultimate adventure for any tourist looking for a thrill.

You can also visit Mui Ne for some fun-filled kite and windsurfing. The dunes found some distance away from the town are absolutely breathtaking.

Pho Quoc. This is the largest island in Vietnam. It is on the coast of Cambodia and has marvelous views of tropical forests and white sandy beaches.

Tourists can also visit the Thien Mu Pagoda located in Hue. Overlooking the Perfume River, it is the tallest pagoda in Vietnam and more intricate and improved than the original one. Simply breathtaking.

Where to stay
Accommodation is relatively cheap. One can lodge or stay in backpacking hostels or budgeting hotels. As a legal requirement, all hotels register details of visitors with the police. Your passport will therefore be a requirement upon check-in.
Anybody who is interested in
holidays in Vietnam
should expect rich history and culture. This is the trip of a lifetime. The plethora of activity and sites is sure to leave every tourist happy and fulfilled.