"Venture inside Cambodia's premier beach destination"
Cambodia captures a fair amount of tourists every year and one of the most exclusively visited destinations is none other than Sihanoukville, which is a famous metropolitan that exhibits history along its cultural spaces and a beautiful ambience to enjoy a family trip.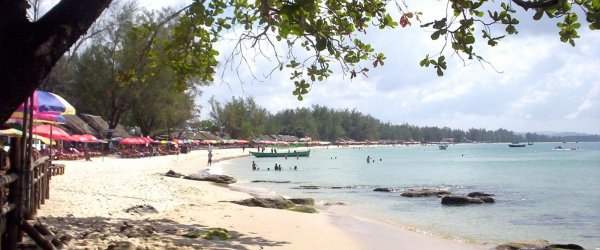 Location
If the sands call upon you, Sihanoukville is your ideal destination in Cambodia on the Gulf of Thailand. Famously known as Krong Preah Sihanouk, this port city of Cambodia is located 200 kilometers southwest of the Phnom Penh. Surrounded by a smattering of small islands, Sihanoukville is one of the fastest growing Cambodian cities, which attracts many national and foreign visitors with its amazing relaxed beach atmosphere.
Did You Know?
Sihanoukville is the newest city of the Cambodia that sprang to life in 1955 where the first and only deep water port was initiated. After attaining independence from France in 1960, the area was renamed Sihanoukville (in honor of then King Sihanouk) though many refer to it from its former name Kompong Som'. During the Vietnam War, it became an intensive military port in the service of National Front for the Liberation of South Vietnam and at the service of the United States.
Start Your Tour
Drawing a steady stream of backpackers, Kbal Chhay Waterfalls offers a delightful series of waterfalls located 10 kilometer from the main city of Sihanoukville. Kbal Chhai Waterfalls was an initial water source for the town of Sihanoukville developed in 1997. Snorkeling and Scuba diving in Sihanoukville thrives presenting a vivid display of rocky reefs, shallow waters and coral, and colorful tropical fish. While you're enjoying the cool waters of Sihanoukville, grab a bite of the best cooked dishes like the Bok L'hong' (Papaya salad with peanuts and Asian basil) as you take a wide chug of the Angkor Beer.
Serendipity is the most crowed beaches in the town, where one can enjoy delicious spread of sea food delights with a wide range of drinks. Don't forget to visit Phsar Leu, or the upper market which is known to be the popular cultural market at Sihanoukville. With a dimly lit setting, you'll come across an expanse of stalls under parched roofs selling goods like meat and vegetables, jewelry, ethnic clothing, auto parts etc. You can also enjoy the cuisine of homemade bread, jam and pickles while roaming around the streets of Sihanoukville.
Discover history at the Golden Monument which was constructed in 1996 and is located between the Ochheuteal, Serendipity and Sokha beaches. It is a prominent landmark of Sihanoukville ring two gleaming golden lions; the female lioness looks benevolent while the male lion stands proud. Pay a visit to the authentic St. Michael's Church was designed by Father Ahadobery, who was a French Catholic priest in 1960. This Church is one of the oldest architectural buildings in the town and it is the only Catholic Church in Sihanoukville.
In the Box
1.The name "Sihanouk" is formed from two Pali words meaning Jaws of the Lion'.
2.Try out deep sea fishing at Fisherman's Den who offer island hopping trips in their 54-ft fishing boat.
3.Ream National Park established by Norodom Sihanouk in 1993 is a major source of attraction for wildlife enthusiasts.